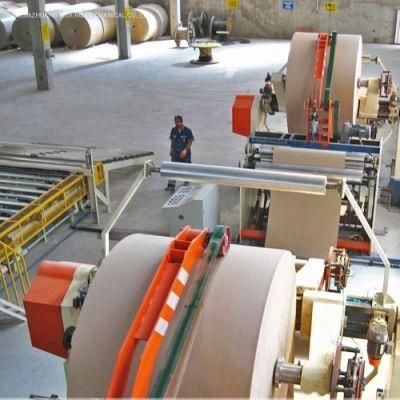 High Performance Gypsum Board Line Gypsum Board Production Line for Construction Use
SHIJIAZHUANG WUXING MECHANICAL CO., LTD.
After-sales Service:a Lifetime of Services
Warranty:1 Year
Product Type:Gypsum Board Production Line
Automatic Grade:Automatic
Power Source:Electric
Screw Design:Single-Screw
Model NO.:WXGB-1-200
Certification:CE, ISO
Condition:New
Customized:Customized
Heating Type:Gas, Oil, Coal
Transport Package:Standard Seaworthy Packing
Specification:Nonstandard
Trademark:Wuxing
Origin:Shijiazhuang City, Heber Province, China
HS Code:8474809090
Production Capacity:5-10 Sets,Year
Basic Info.
Model NO. WXGB-1-200 Certification CE, ISO Condition New Customized Customized Heating Type Gas, Oil, Coal Transport Package Standard Seaworthy Packing Specification Nonstandard Trademark Wuxing Origin Shijiazhuang City, Heber Province, China HS Code 8474809090 Production Capacity 5-10 Sets/Year
Product Description
high performance gypsum board line gypsum board production line for construction use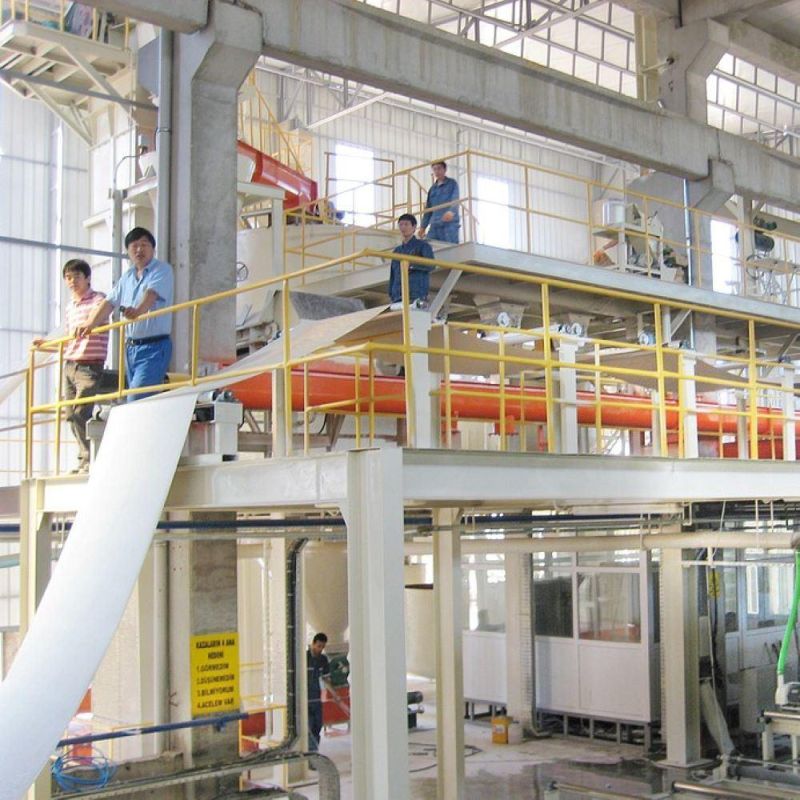 1. Production Describtion
This GYPSUM BOARD PRODUCTION LINE used the calcined gypsum powder, water and various additives are automatically and separately measured and conveyed into the mixer by continuous auto-conveying system. After well mixed into slurry and spreaded onto the gypsum board protective paper which is continuously moving forward. During the progressing process, the slurry is gradually dispersed with vibration, and jointed with back protective paper. When going through extruded shaping machine, the slurry is fully wrapped by upper and lower paper, pressing into well-regulated flat board which is continuously brought forward as per a stable and strictly controlled speed. After any minutes , the calcined gypsum in the slurry is hydrated again and crystallized into tiny interpenetrative dihydrate gypsum crystal with higher strength. And then, the wet gypsum board with a certain strength and regular shape is precisely cut into individual boards with set size by an auto-controlled cutting system. The individual boards are orderly arranged, turned over by program control system and brought into the dyer. In the dryer, the absorbed water in the boards is evaporated away. following strict drying system(The crystal water in the gypsum crystal has no loss). After brought out from the dryer, the boards are gradually cooled down in the running process. The front sides of every two boards are folded after turned over again, and the two ends are cut into boards with regular size and nice appearance by end sawing machine. And finally the boards are conveyed to automatic stacking machine and stacked into well-ordered finished products before put into storage.
2. Main equipment list of gypsum board production line
1. Paper supply system
It has the unique way of splicing and high-density correction institutions, what's more, the nick played a very helpful role for the further plastic and trimming. Quality of the product can be greatly improved, and reduce a lot of unnecessary waste, thus reducing costs.



2. Powder supply system
It has the core of unique quantitative feeder, the supply of gypsum powder to make very precise which provides a great convenience for the further mixing, coupled with pneumatic discharge device so that a reliable supply protection for the feed powder.
3. Water supply system
About this water supply system using hot water switch, the product not only improves the strength quality, but Oslo save the energy, adopt the professional accuracy pump water provides a great convenience.
4. Foam system
This system uses a unique barostat supply, dedicated pump for the foam, and the bubble into the liquid to a uniform paste, for the operation provides great convenience, and therefore the weight of the product easier to adjust master.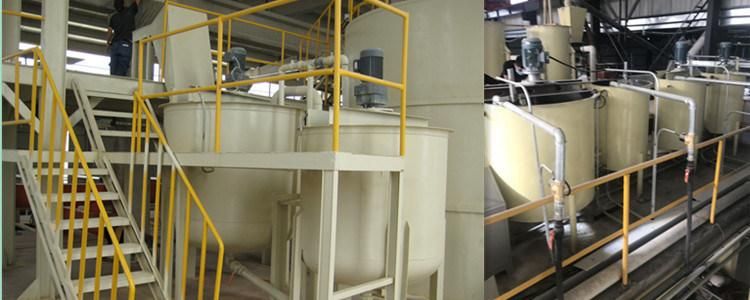 5. Forming system
The introduction of foreign technology, use of special stainless steel strong edge pneumatic vertical mixer with special stainless steel plate forming machine, so that the system greatly enhanced wear resistance, longer service life. Replaced by the original plate forming machine roll lamination, improved the smoothness f board.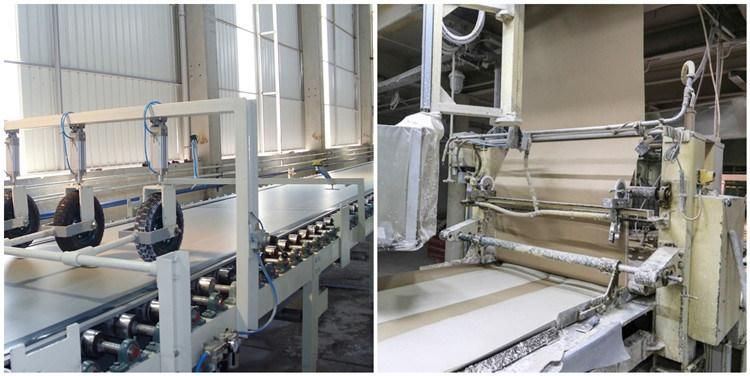 6. Convey system
Except the conventional conveyor system, a further increase in the waste plate cleaning machine, not only reduces the labor intensity, but also to plant sanitation and clean.
7. Transmit system
It is the most advanced non-powered fast-forward into the body panels to reduce energy consumption, and the various parts of assembly are improved overall, more reliable operation of the machine.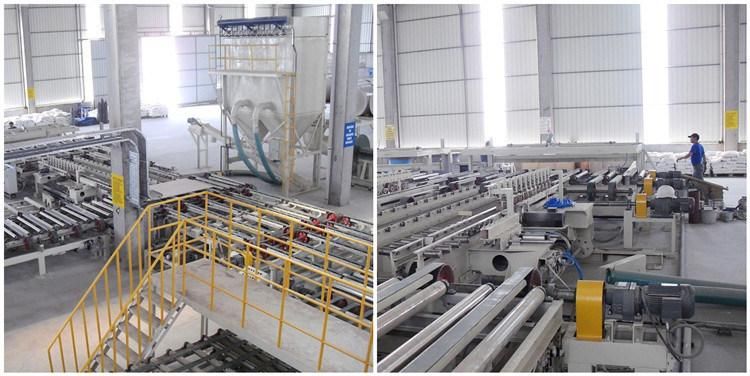 8. Drying system
The drying system is the core set of production lines, it directly affects the production line output and energy consumption, this system adopts the unique radiator structure, may layer temperature control, section temperature control, plus new and unique air system, so that the temperature and humidity levels of the system is adjustable, which played a role in reducing energy consumption and make the operation of the system easier to grasp, is the key to reducing test costs.
9. Heating system
This system used the heat transfer fluid heaters (hot oil heater), it is a low-pressure high-temperature heating device. It is oil, coal, gas as fuel to oil as the carrier is the preferred heating gypsum board production equipment. In addition, the use of flue gas heat exchanger to reduce energy consumption and reduce costs.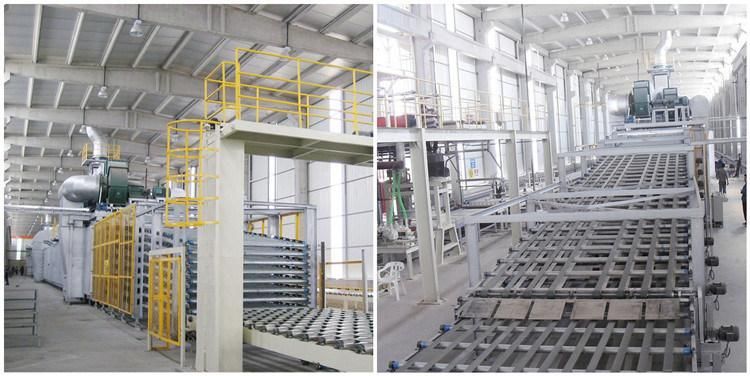 10. Length system
The system with a unique flap machine and palletizing unit became the latest length system, thus ending the history of artificial cut-off plates, lower labor cost.
11. Dust control system
Using electronic pulse bag filter system to improve the dust removal, and the other to increase the dust auger and more convenient to clean up dust.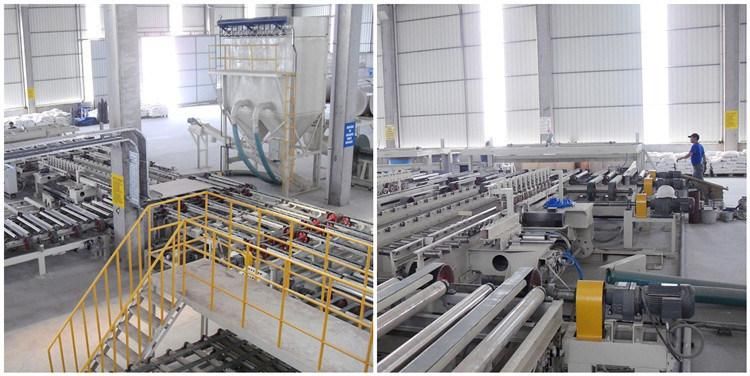 12. Control system
It has six parts, using computer programs control and use the converter, solid state relays, photoelectric sensors, non-contact device, security and reliable operation of the machine. Realize the long-term operation of automatic gypsum board production line.
3. Materials consumption per square meter and daily consumption

| | | |
| --- | --- | --- |
| Cost composition | Unit | Quantity |
| Face protection paper | Kg | 0.36/m3 |
| Gypsum powder | Kg | 5.6/m3 |
| Modified starch | Kg | 0.04/m3 |
| White latex | Kg | 0.006/m3 |
| Foaming agent | Kg | 0.003/m3 |
| natural gas | M³ | 0.29/m3 |
| Electricity | degree | 0.32/m3 |
| water | Kg | 4/m3 |
| Cover paper | M | 1.25M/pc |
| Labor and management fees | | 0.15/m3 |
| | | |


4. Packing and shipping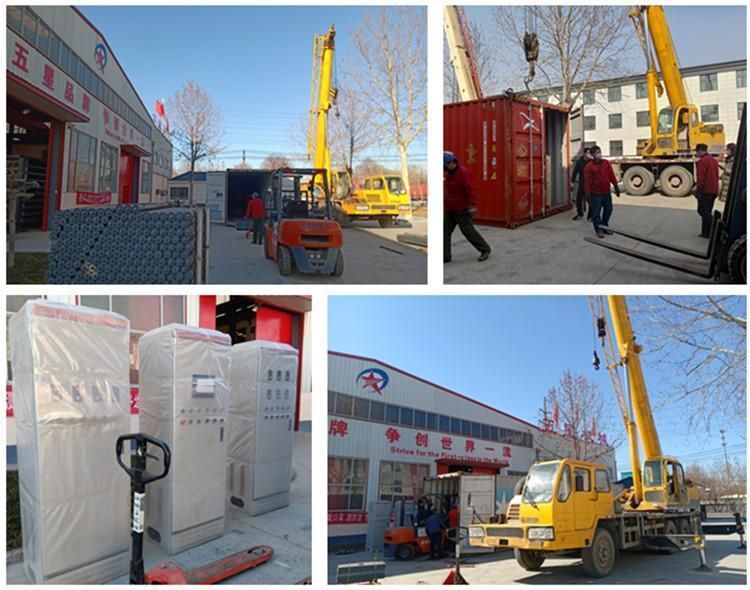 5. FAQ
Q: Are you trading company or manufacturer ?
A: We are a professional gypsum board producing line manufacturer for more than 12 years.
Q: How long is your delivery time?
A: Normally for 2 months to 3 months .
Q: How many containers will be needed?
A: According to the capacity.
Q: What is your terms of payment ?
A: We can accept L/C or T/T.
Q:What is your advancage and service ?
A:Firstly , we own up-to-date technology and experienced research and develop team , provide you with strong technical support .
Secondly , we provide free design, including plant layout, equipment diagram according to your demand .
Thirdly , we supply all surport for raw material supplier information .
Fourthly, arrange practised techicians installing and training oversea as soon as you receive the machines .
All in all , our resource is your resource .