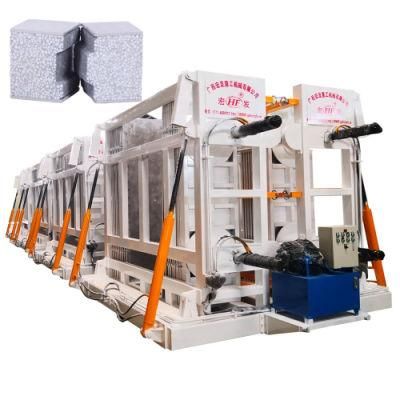 Wall Panel Machine Wall Block Production Line Wall Sheet EPS Light Weight Brick Production Line Plastic EPS Sandwich Panels Making Machine
Guangxi Hongfa Heavy Machinery Co., Ltd.
After-sales Service:on Site Installation and Training
Warranty:One Year
Product Type:Wall Panel Machine
Automatic Grade:Automatic
Power Source:Electric
Screw Design:Double-Screw
Model NO.:Wall Panel Machine Wall Block Production Line
Certification:CE, ISO
Condition:New
Customized:Customized
Transport Package:by Sea
Specification:customer require
Trademark:HongFa
Origin:China
Production Capacity:500PCS
Basic Info.
Model NO. Wall Panel Machine Wall Block Production Line Certification CE, ISO Condition New Customized Customized Transport Package by Sea Specification customer require Trademark HongFa Origin China Production Capacity 500PCS
Product Description
Automatic vertical wall panel production line is independent creation from Hongfa Heavy Machinery Group.Hight degree of automatic ,progress steadily and safety,high production efficiency .The system advanced other typy and outside company equipment .
Product
F
eatures
HONGFA EPS Cement wall panels are revolutionary new type of high-grade light weight panels made with foam EPS particle as core material, Calcium silicate/Cement fiber board as surface material(or without surface board) and properly mixed cement with fly ash, Sand, slag and additives.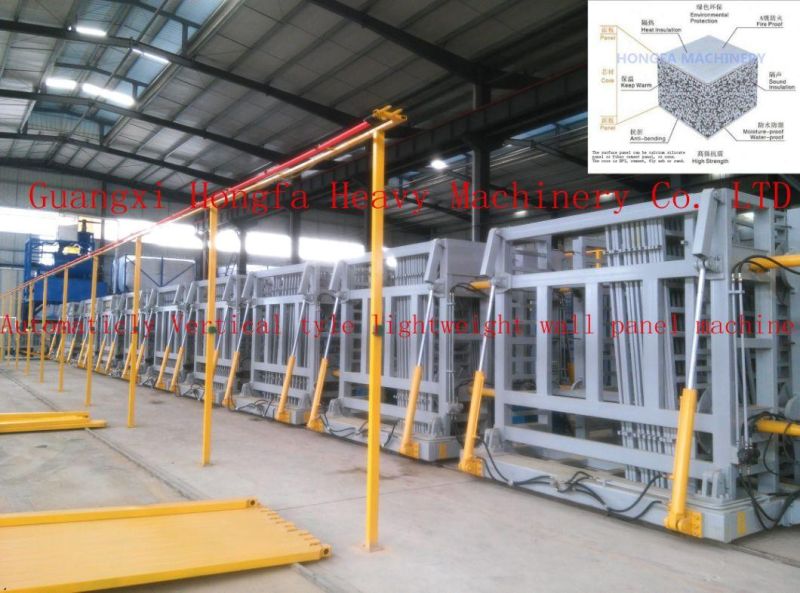 Raw materials used of the EPS panels sandwich panels block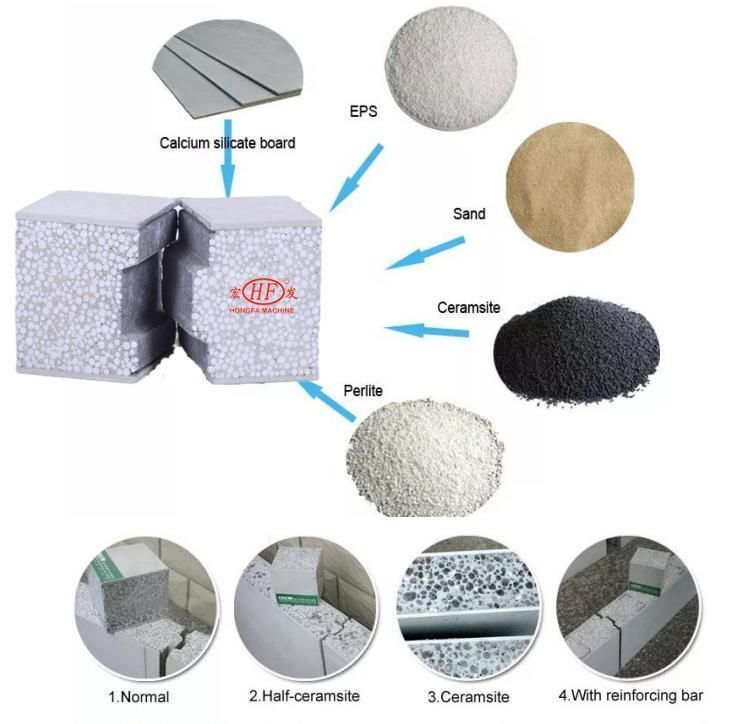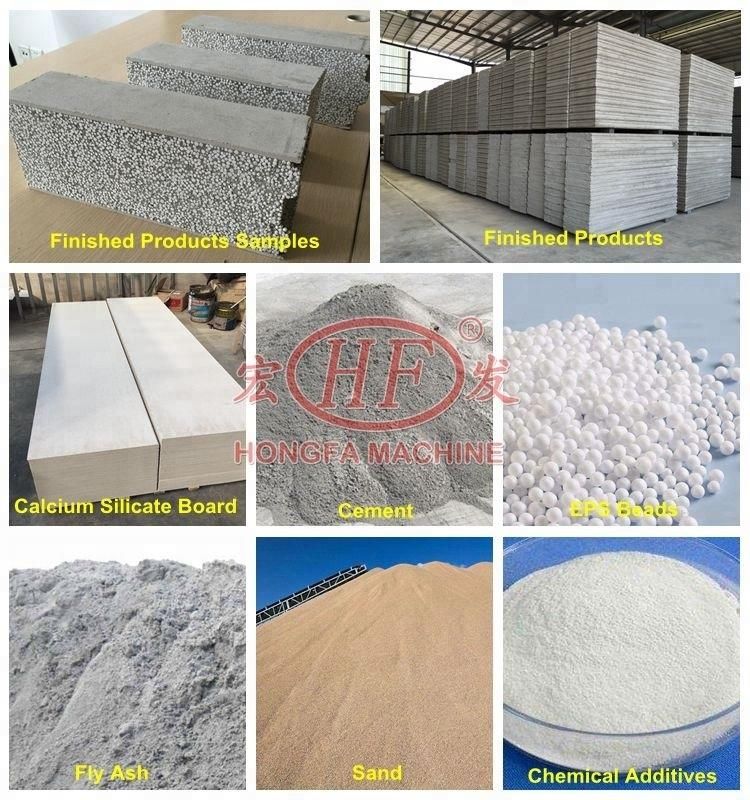 The advantages of the EPS sheet /EPS wall panel


The

two surfaces of this new type composite sandwich panels are composed of high strength water resistant calcium silicate/Cement fiber board with good waterproof properties; good thermal insulation EPS bonding mortar as core material; The product is of structural function, waterproof and thermal insulation performance,

mainly used as building wall partition.





This kind of

EPS cement Sandwich Panels provides

comprehensive advantage that no other panels can. When comparing the solid strength, lightweight, thin body, high strength, impact resistance,

strong hanging force, heat insulation, sound insulation, fire prevention, waterproof, easy cutting, can be arbitrary slot, without

rendering coat, dry construction and environmental protection EPS Cement panels wins' hands down.





Achieving the purpose of saving energy, improving energy efficiency puts the construction industry from traditional wet type construction to advanced dry type construction. This takes construction industry into production industrialization with Technical equipment, intensive production and legal application compliance at the same time it also reduces the wall occupying space increasing usable residential space, reduce structure

load, promote building aseismic ability and safety performance, reduce the comprehensive cost. This product can be widely used in all kinds of buildings be it village huts, affordable housing, Housing for All or high-rise multistory buildings as non-load bearing walls with advantageous properties.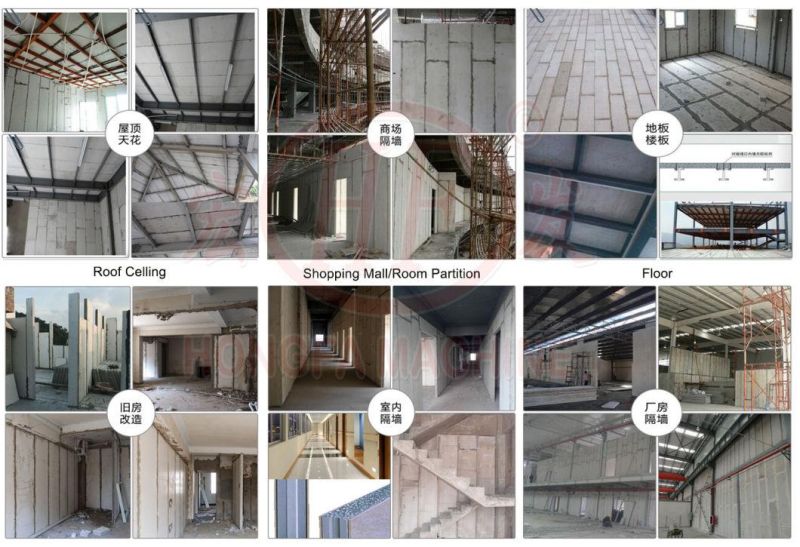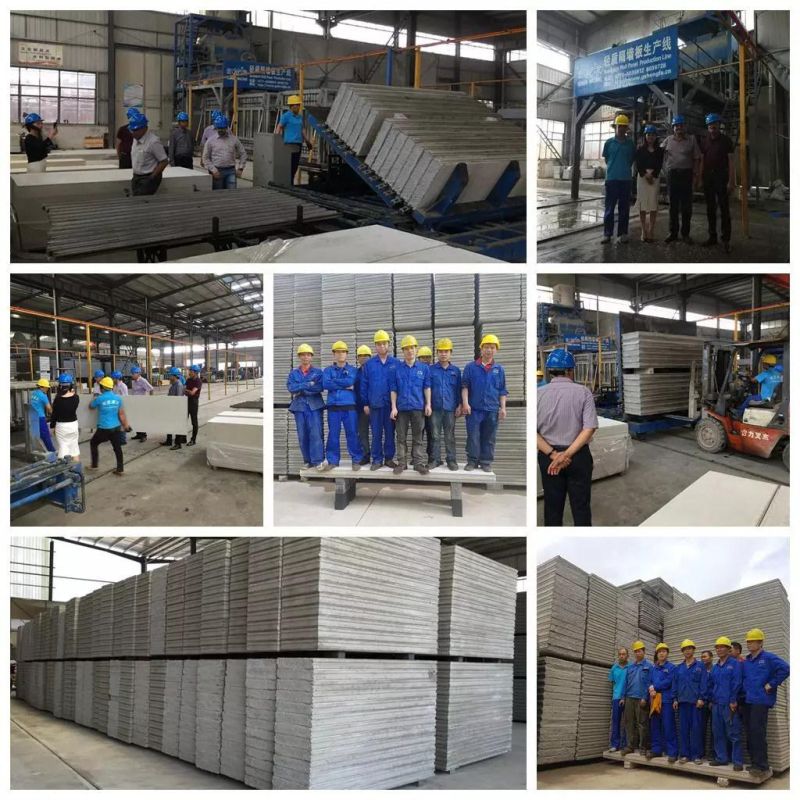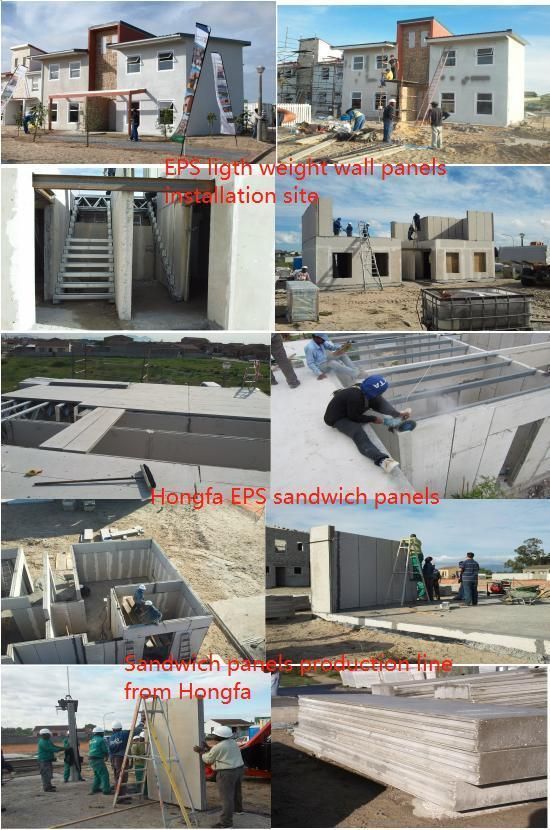 In short HONGFA EPS Cement panels are:
Light Weight and Cost Effective

Easy and Faster Construction

High Hanging Strength

Fire Resistant Sound Insulation and absorption capacity

Water Proof and Damp proof

Low Shrinkage

Smooth and Flat Surface

Environment-friendly and Non-toxic

Increased Net Area which saves money

Light weight and earthquake proof

Energy saving environment friendly

Total Quality Control & Anti-Manipulation construction

Permeability Resistance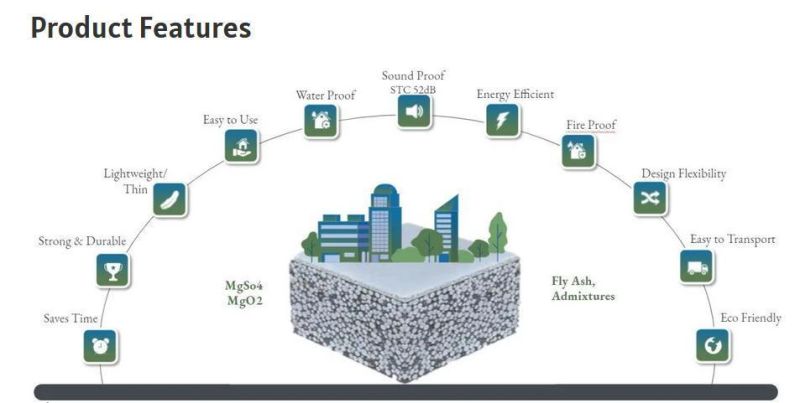 Market Vision Analysis
With the above advantages EPS Cement Wall
Panel have become a hot product in demand world over and many countries are now going for local production due to freight cost factor.
Advantages of Project
Low Input and High Output. Main raw materials: Portland cement, Fly ash, Sand, Slag,
EPS foam particles, the production process is simple and low cost.
Meeting Building Standard requirements
The construction material development from clay brick to non-clay, from solid to hollow, from small to large, from heavy to lightweight, from low intensity to high-strength, from high to low energy consumption has fueled the demand so much that today there is big demand of the production facilities.
Rich and Extensive Sources of Raw Materials
The main raw materials of wall panel are industrial residues, Fly ash, Sand, Slag and EPS foam particles and Cement blend with bonding agents which are locally available in abundance. These are inexpensive ordinary raw materials which makes the project very profitable.
Production infrastructure requirements
:
Land requirements
:
About 2000m
2
workshop with
10
meters high roof is required for a reasonable size plant however this can change depending on the capacity of the plant. Lot of storage and open space will be needed to store the raw materials and finish
ed
products.
Water
requirement
s
:
To produce 1000m
2
panels per day we require 20 ton of water only. No special requirements of water quality, ordinary clean water can be used for production.
E
lectricity requirement:
I
nstalled power about 150 kw (depending on the capacity and type of mold cars).
Requirements of Air and Steam
:
Air compressor 1 set,
and 0.5t-1t capacity boiler.
Workers requirement:
A
staff & workers' strength of about
6-10
is enough to run a 5
Automatic mold
car plant.
Financial prospects:
For example, a plant of 25 mold cars with

annual capacity of 334,800m
2
(1116
m
2
/ day) the per sq. Meters direct cost of the panel shall be around USD6.5 (raw material ), however this can vary with local cost components.
The wall panel machine /EPS foaming light weight wall panel wall sheet production line process
Section 1: Raw Materials Processing Section
Section 2: EPS Expanding Section
Section 3: Materials Weighing Section
Section 4: Materials Mixing&Filling Section
Section 5: Wall Panel Forming Section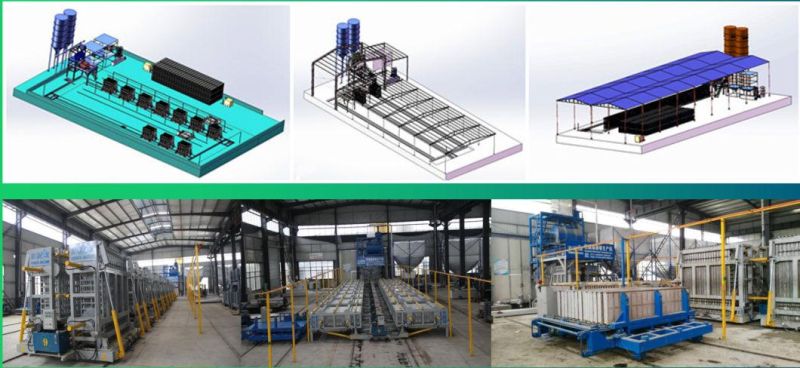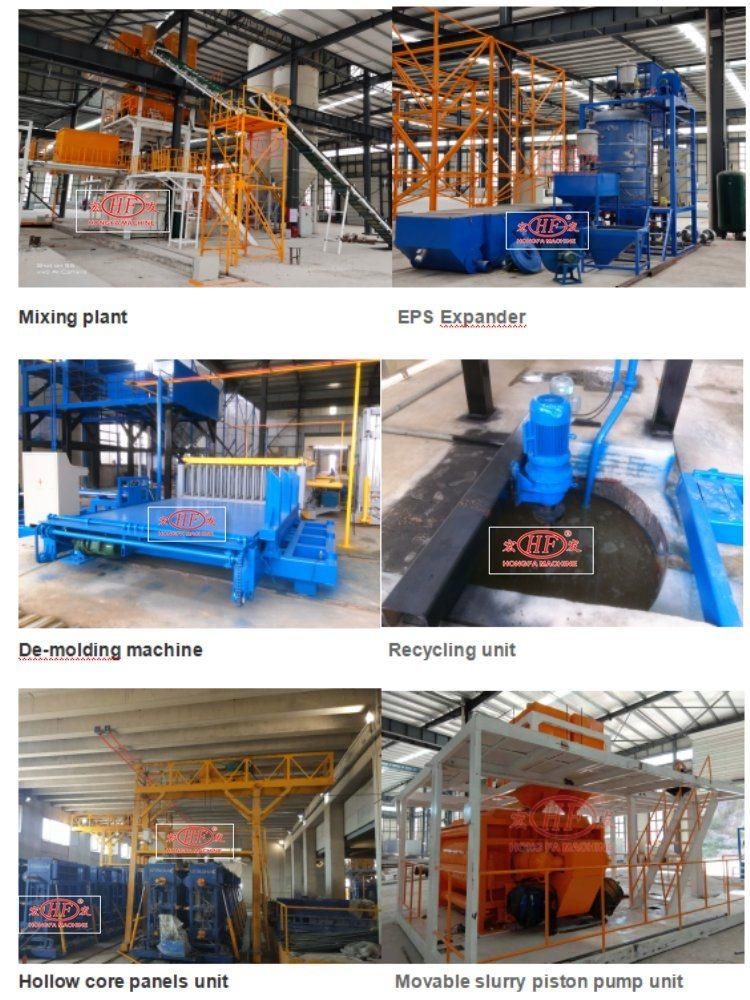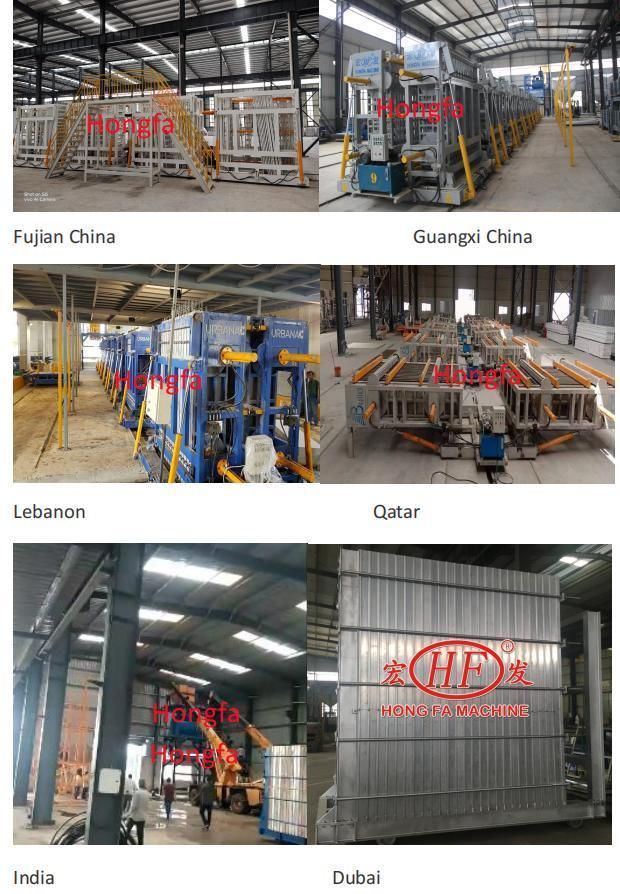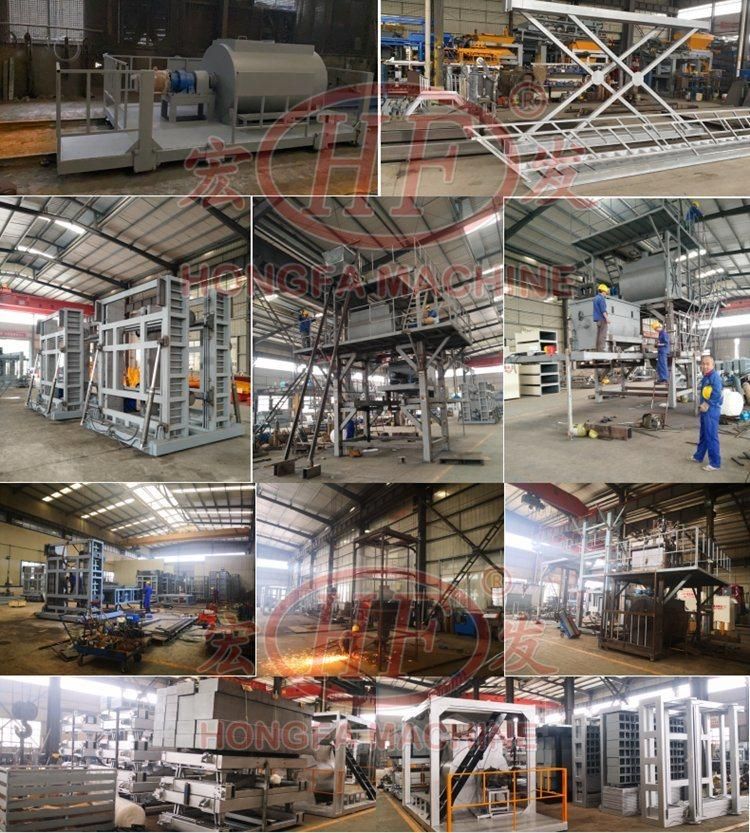 WARRANTY
1.
HONGFA warrants that each new plant installation is free from any manufacturing defects affecting the plant performance at the time of acceptance of the plant. The warranty is 12 months from the date of shipment reaches the port of the buyer.
2.It shall be a prerequisite for any warranty claims that the Buyer has duly observed its statutory responsibilities with respect to inspection, maintenance proper use of the plant and has notified the defect to HONGFA as soon as it is noticed. HONGFA shall take prompt action to rectify that subject to force-majeure.
Warranty shall stand laps if it is found that any losses has arisen as a consequence of the following: Inappropriate or improper use of the plant, incorrect assembly or commissioning by the Buyer or third parties, fair wear and tear, incorrect or negligent handling, unsuitable process materials, substituted materials of construction, inadequate civil or building work, unsuitable foundations, chemical, electrochemical or electrical influences, third party unauthorized alterations or repairs in inappropriate manner unless specifically authorized by HONGFA in writing or under their own
Welcome to Joint Us as Firmed Partners to Building a Better Future
Contact here
Jiffy Hu --- Sales manager
Guangxi Hongfa Heavy Machinery Co.,Ltd